CeraShield™ Coating Prevents Bacterial and Fungal Colonization, and Reduces Endotoxin
Dublin, Ohio, November 3, 2017—N8 Medical, LLC, a privately-held clinical-stage biotechnology company developing drug-eluting medical devices for the prevention of serious hospital-acquired infectious conditions, today announced the scientific publication of "Preclinical testing of a broad-spectrum antimicrobial endotracheal tube coated with an innate immune synthetic mimic" in the October 4, 2017 issue of the Journal of Antimicrobial Chemotherapy (JAC).[1] N8 Medical's CeraShield™ Endotracheal Tube (ETT) is a ceragenin-eluting ETT that has been designated by the U.S. Food and Drug Administration (FDA) as a "breakthrough" medical device pursuant to the 21st Century Cures Act based on its potential to prevent life-threatening infections from Candida auris and other multidrug resistant pathogens such as colistin-resistant Pseudomonas and Acinetobacter.
The CeraShield™ ETT contains CSA-131, which is a member of the class of compounds known as "ceragenins" or "CSAs." The recent publication in JAC describes in detail the preclinical testing of the CeraShield™ ETT and its ability to prevent colonization of the ETT by ESKAPE pathogens such as Pseudomonas, Staphylococcus aureus and Acinetobacter as well as fungal strains of Candida albicans and Candida auris.
N8 Medical's CeraShield™ ETT has a hydrogel film coating supplied by Hydromer, Inc. that contains CSA-131. The CeraShield™ ETT testing studied elution (drip-flow and static systems), antifungal and antibacterial activity (repeated inoculation in growth media), biofilm formation (electron microscopy), and safety (intubation of pigs with coated and uncoated endotracheal tubes).
The optimized CeraShield™ hydrogel coatings containing CSA-131 provided controlled slow release of CSA-131, with concentrations released of less than 1ug/ml per 24 hours. The eluting CSA-131 prevented fungal and bacterial colonization of coated ETTs exposed to high inocula for up to 14 days, while uncoated ETTs had extensive biofilm growth after 24 hours. CeraShield™ coated ETTs were well tolerated in intubated pigs. The authors also found that the CeraShield™ ETTs also significantly reduced endotoxin levels.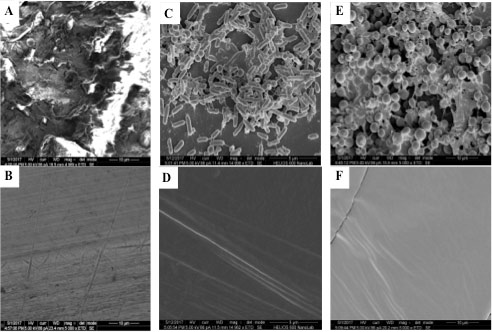 Scanning Electron Microscopy (SEM) images of ETT surfaces: A: biofilm of C. auris (CDC 383) on an uncoated tube after 14 days (daily inoculation). B: surface of a coated tube after 14 days (daily inoculation with C. auris). C: mixed species biofilm of MRSA and PA01 on an uncoated tube after 48 h. D: surface of a coated tube after 48 h (inoculation with MRSA and PA01). E: mixed species biofilm of PA01 and C. auris on an uncoated tube after 48 h. F: surface of a coated tube after 48 h (inoculation with PA01 and C. auris).
In related studies, Taiwanese researchers from the National Yang-Ming University have published that the combination of Pseudomonas and mechanical ventilation in a rat model greatly amplifies the levels of endotoxin related inflammatory cytokines in the lungs: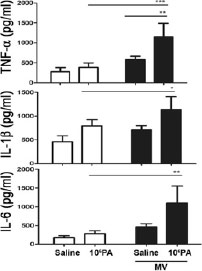 Mechanical ventilation after PA instillation induced the production of TNF-α, IL-1β and IL-6 in the lungs of WT mice. PA (1 × 106 CFU) intranasal instillation and mechanical ventilation increased TNF-α, IL-1β, and IL-6 levels in the lungs as compared to those in the PA instillation or mechanical ventilation alone group.
Tzyy-Bin Tsay,Yu-Zhen Jiang, Ching-Mei Hsu, and Lee-Wei Chen. Pseudomonas aeruginosa colonization enhances ventilator-associated pneumonia-induced lung injury. Respir Res. 2016; 17:101.
Published research has also shown that high levels of systemic inflammatory cytokines, such as IL-6, are associated with early death from Ventilator Associated Pneumonia (VAP) as well as the development of delirium and acute kidney injury (AKI) in mechanically-ventilated adults.[2] In neonates, high levels of IL-6 are associated with the development of bronchopulmonary dysplasia (BPD).[3] BPD affects nearly 30% of intubated neonates in the U.S. and can have adverse effects on pulmonary function and cognitive abilities that may last years or a lifetime.[4]
Carl Genberg, CEO of N8 Medical, LLC stated:
"Nearly 95% of intensive care unit patients who require mechanical ventilation will develop bacterial and/or fungal colonization of their endotracheal tubes. These slime-like collections of millions of cells, called biofilms, are almost impossible to eradicate with conventional antibiotic therapy, and are a source for new multidrug-resistant strains as different species of bacteria are able to exchange DNA plasmids through a process known as horizontal gene transfer. These biofilms on endotracheal tubes form a reservoir of infectious agents in the patient's trachea and may also play an important role in triggering a systemic inflammatory response that can lead to remote organ failure and other adverse clinical outcomes associated with mechanical ventilation."
N8 Medical anticipates initiating initial human clinical studies in the United States in the first quarter of 2018 following FDA IDE approval.
CAUTION: In the United States, the CeraShield™ Endotracheal Tube has not been granted marketing approval by FDA, and is an investigational device and not available for commercial sale. These statements have not been evaluated by FDA.
---
[1] Hashemi MM et al. Preclinical testing of a broad-spectrum antimicrobial endotracheal tube coated with an innate immune synthetic mimic. J Antimicrob Chemother 2017 Oct; doi 10.1093 jac dkx347.
[2] Bacci MR, Leme RC, Zing NP, Murad N, Adami F, Hinnig PF, Feder D, Chagas AC, Fonseca FL. IL-6 and TNF-α serum levels are associated with early death in community-acquired pneumonia patients. Braz J. Med Biol Res. 2015 May;48(5):427-32.
[3] Munshi UK, Niu JO, Siddiq MM, Parton LA. Elevation of interleukin-8 and interleukin-6 precedes the influx of neutrophils in tracheal aspirates from preterm infants who develop bronchopulmonary dysplasia. Pediatr Pulmonol. 1997 Nov;24(5):331-6.